August 17th, 2013
Psalm 107:9 For he satisfieth the longing soul, and filleth the hungry soul with goodness.
July's Recipe: An easy meat for supper.
Ingredients:
Pork chops
Vidalia Onion Vinaigrette Dressing
Directions:
Put pork chops in a gallon zip-lock bag. Add dressing to coat meat. Refrigerate and let marinate at least 3 hours (you can add meat tenderizer too). Remove meat and place on a baking sheet. Bake at 400 degrees for about 30 minutes, turning meat after 15 minutes. That's all!
___________________________________________________________________ Matthew 25:37 Then shall the righteous answer him, saying, Lord, when saw we thee an hungred, and fed thee? or thirsty, and gave thee drink?
June's Recipe:  A yummy alternative to traditional apple pie.
BAKED APPLES
Ingredients:
apple(s) [as many as needed]
cinnamon
walnuts, finely chopped
caramel ice cream sauce (drizzle) [optional]
Directions: Core apple, leave bottom and peeling intact. In core hole, pour walnuts, then pour cinnamon. Bake at 400 degrees, approx. 20 minutes (peeling will wrinkle and bubble). Serve with caramel sauce, if desired.
___________________________________________________________________
Luke 10:30-35 And Jesus answering said, A certain man went down from Jerusalem to Jericho, and fell among thieves, which stripped him of his raiment, and wounded him, and departed, leaving him half dead. And by chance there came down a certain priest that way: and when he saw him, he passed by on the other side. And likewise a Levite, when he was at the place, came and looked on him, and passed by on the other side. But a certain Samaritan, as he journeyed, came where he was: and when he saw him, he had compassion on him, And went to him, and bound up his wounds, pouring in oil and wine, and set him on his own beast, and brought him to an inn, and took care of him. And on the morrow when he departed, he took out two pence, and gave them to the host, and said unto him, Take care of him; and whatsoever thou spendest more, when I come again, I will repay thee.
May's Recipe:  Many recipes can undergo this adaptation successfully and be healthier for the partaker!!
DON'T FRY, INSTEAD…
If a recipe or directions calls for frying, many times, you can bake, broil or grill instead. Even sauté… I did this with store bought frozen hash browns. The directions told only about frying. I used an oven safe frying pan. Preheated the oven to 400 degrees. I put the seasoned (onion power, garlic powder, pepper) hash browns in the frying pan with a little (2 TBSP or so) oil (canola or olive) and baked them, stirring about every 20 minutes while other dishes were being prepared.
__________________________________________________________________
Proverbs 25:21 If thine enemy be hungry, give him bread to eat; and if he be thirsty, give him water to drink:
April's Recipe: This versitle, quick dessert can be made healthier and with your favorite candy bar!
CANDY BAR PIE (You can do light and/or fat free everything)
Ingredients:
1 pre-made graham cracker or chocolate crushed cookie pie crust (usually on baking aisle)
1 – 12 oz. tub cool whip
8 oz. cream cheese favorite candy bar (I used 9 little butterfingers, crushed)
Directions
Let cool whip and cream cheese soften. Mix entire cool whip and entire cream cheese. Add crushed candy bars. Pour into crust. Freeze. Enjoy!
___________________________________________________________________
Psalm 42:1-2 As the hart panteth after the water brooks, so panteth my soul after thee, O God. My soul thirsteth for God, for the living God: when shall I come and appear before God?
March's Recipe: A great, quick dish!
PORK BBQ
Ingredients:
pork tenderloin
12 oz. root beer
bbq sauce (I use Sticky Fingers Memphis Original)
Directions:
Put pork and root beer in crock pot for approx. 6 hrs. Then drain off liquid; add bbq sauce and cook 1 additional hour. Ready to serve!
___________________________________________________________
Proverbs 13:25 The righteous eateth to the satisfying of his soul: but the belly of the wicked shall want.
February's Recipe: A simple, make-ahead dessert that can be extremely versatile to meet your tastes and dietary needs.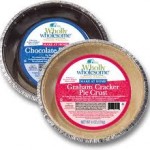 ICE CREAM PIE
Ingredients:
1 Pint of your favorite ice cream (I've used peppermint swirl, cherry garcia frozen yogurt, chocolate chip cookie dough w/ brownie bits, red velvet cake, raspberry fo yo w/ chocolate bits)
1 8 ounce container of cool whip
1 Pre-made graham cracker crust or chocolate crust
Directions:
Mix the ice cream and cool whip together (let them both soften a bit to allow ease of mixing). Pour into crust. Freeze. Enjoy!!
___________________________________________________________
Job 23:12 Neither have I gone back from the commandment of his lips; I have esteemed the words of his mouth more than my necessary food.
January's Recipe: An adaptable recipe of warm goodness.
HAM & CHEESE CRECSANTS
Ingredients:
1 can (8 oz) Pillsbury® refrigerated crescent dinner rolls
thin slices cooked ham (at least 8 oz)
thin slices cheese (whatever kind you prefer)  (I used Pepper Jack)
Directions:
Heat oven to 350°F (or follow directions on crescent roll package). Separate dough into 8 triangles. Place 1 slice of cheese on each triangle; place 1-2 piece(s) of ham on cheese.  Roll up each crescent, ending at tip of triangle. Place with tips down on ungreased cookie sheet. Bake 15 to 19 minutes or until golden brown. Immediately remove from cookie sheet. Serve warm.
____________________________________________________________ Matthew 19:11 But he said unto them, All men cannot receive this saying, save they to whom it is given.
December's Recipe:  Need a gift? Here's a homemade pan of goodness!
EASY PEANUT BUTTER FUDGE
Ingredients:
1 can of white/vanilla frosting
1 jar peanut butter (creamy or crunchy, NOT natural)
Directions:
Soften frosting in microwave, approx. 30 seconds or LESS.  In a bowl, mix whole can of frosting and whole jar of peanut butter. Line a rectangle pan with tin foil, butter generously. Pour mixture into pan.  Let set, then cut into pieces.
___________________________________________________________________
Isaiah 49:10 They shall not hunger nor thirst; neither shall the heat nor sun smite them: for he that hath mercy on them shall lead them, even by the springs of water shall he guide them.
November's Recipe: A fast finger food for all the parties this season.
WRAPPED SMOKIES
Ingredients:
little smokies (can be found at Wal-Mart in the case with the lunch meats)
Pillsbury Crescent Rolls (near refrigerated can biscuits)
Directions:
Put 1 smokie in each crescent as you roll it up. Bake according to package. ___________________________________________________________________
Luke 12:21-23 So is he that layeth up treasure for himself, and is not rich toward God.And he said unto his disciples, Therefore I say unto you, Take no thought for your life, what ye shall eat; neither for the body, what ye shall put on.The life is more than meat, and the body is more than raiment.
October's Recipe: In a pinch? No worries with this quick and easy dessert!
BLACKBERRY CREAM PIE
Ingredients:

1 (10-ounce) package fresh or frozen blackberries
4 tablespoons blackberry jam
1 (9-inch) store-bought graham cracker pie crust
1 (8-ounce) tub whipped topping (or homemade whipped cream)
Directions
Put the blackberries in a bowl and mash them with a fork until broken up. Add the jam and mix until combined.
Spoon the blackberry mixture into the crust. Top with the whipped topping and serve.
________________________________________________________________
Job 23:12 Neither have I gone back from the commandment of his lips; I have esteemed the words of his mouth more than my necessary food.
September's Recipe: A yummy, easy to make for yourself or a gift.
PEPPERMINT BARK
Ingredients:

white chocolate morsels [chips; I use White House or Hershey]
peppermint candy canes or candy pieces, crushed
Directions:
Melt white chocolate over a double boiler. Pour in a thin layer onto wax paper. Cover white chocolate with peppermint candy pieces. Let cool and harden. Break white chocolate into pieces. Serve.
___________________________________________________________________
Proverbs 25:21 If thine enemy be hungry, give him bread to eat; and if he be thirsty, give him water to drink:
August's Recipe: An easy dessert to pull off.
Easy Peanut Butter Cookies
Ingredients:
1 cup sugar
1 cup peanut butter
1 egg
Directions:
Pre-heat oven to 350 degrees. Mix all 3 ingredients together. Place on baking sheet by spoonfuls. Put in oven about 10 minutes or until golden (may not look completely done, but will finish cooking after taken out).