July 27th, 2012
Psalm 107:9 For he satisfieth the longing soul, and filleth the hungry soul with goodness.
July's recipe:  A healthy recipe for your garden goodies!
ZUCCHINI FRITTERS (healthy version)
Ingredients:
2-4 zucchini, shredded
2 eggs, beaten
2/3 cup Panko (Japanese) seasoned bread crumbs
Salt & pepper to taste
3 tablespoons butter
A few drops hot sauce (optional)
aluminum foil
Directions:
Preheat oven to 400 degrees. Line baking sheet with foil and spray with Pam or a non-stick spray. Pat zucchini fritters (mix all ingredients together except aluminum foil!)  like little pancakes or potato cakes and place on baking sheet with foil. Put butter pieces here and there throughout the pan. Place pan in oven. Turn fritters over with a spatula after cooking 15-20 minutes; return to oven, cook 10 more minutes. Turn oven temperature to 425 and cook for 10 additional minutes.  Take out of the oven. [oven temps vary]
___________________________________________________________
Isaiah 49:10 They shall not hunger nor thirst; neither shall the heat nor sun smite them: for he that hath mercy on them shall lead them, even by the springs of water shall he guide them.
June's Recipe: An easy dessert like you can found on the town.
APPLE ( or any fruit) DESSERT PIZZA
Ingredients:
1 can of apple (or other fruit) pie filling
¼ teaspoon apple pie spice
1 pack pie dough (found in the dairy case)
¼ cup all-purpose flour
¼ cup brown sugar
¼ cup oatmeal
2 tablespoons melted butter
shake of cinnamon
store bought glaze (with icings and cake mixes)
Directions: Unroll 1 pie dough on pan. Spread apple pie filling on dough. Add apple pie spice.  Combine flour, sugar, oatmeal, butter and cinnamon. Sprinkle/spread topping all over the top. Bake at 350 degrees for 20 minutes or until crust is brown. Drizzle glaze as desired. YUM!!
___________________________________________________________
John 4:13-14 Jesus answered and said unto her, Whosoever drinketh of this water shall thirst again:But whosoever drinketh of the water that I shall give him shall never thirst; but the water that I shall give him shall be in him a well of water springing up into everlasting life.
May's Recipe: Cool and refreshing, not to mention yummy!
OREO & Fudge Ice Cream Cake
Ingredients:
½ cup hot fudge ice cream topping, warmed
1 tub (8 oz.) COOL WHIP Whipped Topping, thawed, divided
1 pkg. (3.9 oz.) JELL-O Chocolate Instant Pudding
8 OREO Cookies, chopped (about 1 cup)
12 vanilla ice cream sandwiches

Directions:
POUR fudge topping into medium bowl. Whisk in 1 cup COOL WHIP. Add dry pudding mix; stir 2 min. Stir in chopped cookies.
ARRANGE 4 ice cream sandwiches, side-by-side, on 24-inch-long sheet of foil; top with half the COOL WHIP mixture. Repeat layers. Top with remaining sandwiches. Frost top and sides with remaining COOL WHIP. Bring up foil sides; double fold top and ends to loosely seal packet.
FREEZE 4 hours or until firm. [Kraft Foods]
__________________________________________________________________
Psalm 71:8 Let my mouth be filled with thy praise and with thy honour all the day.Food's not the only thing to fill our mouth with.
April's Recipe: A wonderful addition to anyone's recipe collection.
KING RANCH CHICKEN MAC –N- CHEESE
Ingredients
March's Recipe: Easy to also scale down for less.
Apple Cobbler
Ingredients
FILLING
8 large apples, peeled and cut into 1/2-inch-thick wedges (about 4 1/2 lb.)
2 cups granulated sugar
1/4 cup all-purpose flour
1/4 cup butter
1 teaspoon lemon zest
1/3 cup fresh lemon juice
1 teaspoon ground cinnamon
DOUGH
2 1/4 cups all-purpose flour
1/4 cup granulated sugar
2 1/4 teaspoons baking powder
3/4 teaspoon salt
3/4 cup cold butter, cut into pieces
2/3 cup milk
2/3 cup firmly packed light brown sugar
2 tablespoons butter, melted
Preparation

Prepare Filling: Preheat oven to 425°. Toss together first 3 ingredients. Melt 1/4 cup butter in a large skillet over medium-high heat; add apple mixture. Cook, stirring often, 20 to 25 minutes or until apples are tender and syrup thickens. Remove from heat; stir in next 3 ingredients. Spoon apple mixture into a lightly greased 3-qt. baking dish.
Prepare Dough: Stir together 2 1/4 cups flour and next 3 ingredients in a large bowl. Cut cold butter pieces into flour mixture with a pastry blender or fork until crumbly; stir in milk; add brown sugar and butter. Spoon dough on apple mixture. Bake at 425° for 15 to 17 minutes or until dough is golden.
__________________________________________________________
Luke 6:25 Woe unto you that are full! for ye shall hunger. Woe unto you that laugh now! for ye shall mourn and weep.
February's Recipe: A must-know comfort food recipe for your collection.
Chicken Pot Pie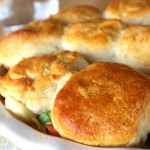 Ingredients:
approx. 1 ½ lbs. boneless, skinless chicken strips
1 cup each, chopped, fresh carrots, celery, onion
salt and pepper
4 tablespoons butter
¼ cup buttermilk
1/3 cup water
4 oz. cream cheese biscuits, ready for baking (homemade or with bisquick)
Directions:
In one pan (on stove top), cut chicken strips into chunks. Salt and pepper. Add cream cheese. Stir occasionally, as cheese melts. In another pan, melt butter add carrots, celery and onion. Cook until onion is almost transparent. In glass baking dish put vegetables. Add buttermilk. Add chicken mixture and water. Bake at 350 for 15 minutes. Remove from oven, add biscuits on top of pot pie. Bake additional 15 minutes or until biscuits are done. ________________________________________________________________
Nehemiah 9:20 Thou gavest also thy good spirit to instruct them, and withheldest not thy manna from their mouth, and gavest them water for their thirst.
January's Recipe: A good one to have on a cold day.
HOT CHOCOLATE MIX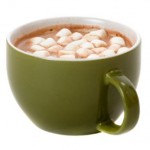 Ingredients:
2 cups powdered sugar
1 cup cocoa powder
2 1/2 cups powdered milk
1 teaspoon salt
2 teaspoons cornstarch
Hot water or milk
Directions:
Combine all ingredients in a mixing bowl and incorporate evenly. In a small pot, heat 4 to 6 cups of water. Fill your mug half full with the mixture and pour in hot water. Stir to combine. Seal the rest in an airtight container, keeps indefinitely in the pantry. This also works great with warm milk. Don't forget the marshmallows!