August 2nd, 2011
Psalm 136:25Who giveth food to all flesh: for his mercy endureth for ever.
July's Recipe:  Another idea for all that zucchini.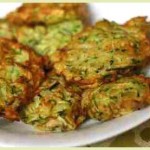 Zucchini Fritters
Ingredients:
2-4 zucchini, shredded
1 egg
1/3 cup flour
Salt & pepper to taste
A few drops hot sauce (optional)
Directions:
Heat vegetable oil in pan. Put zucchini fritters (mix all ingredients together) in hot oil, like little pancakes or potato cakes. Turn when golden brown. Take out of pan to drain when brown on second side.
___________________________________________________________
Exodus 31:3 And I have filled him with the spirit of God, in wisdom, and in understanding, and in knowledge, and in all manner of workmanship,
June's Recipe:  I look forward to having this dish at holiday gatherings.
Fruit Salad
Ingredients:
3 apples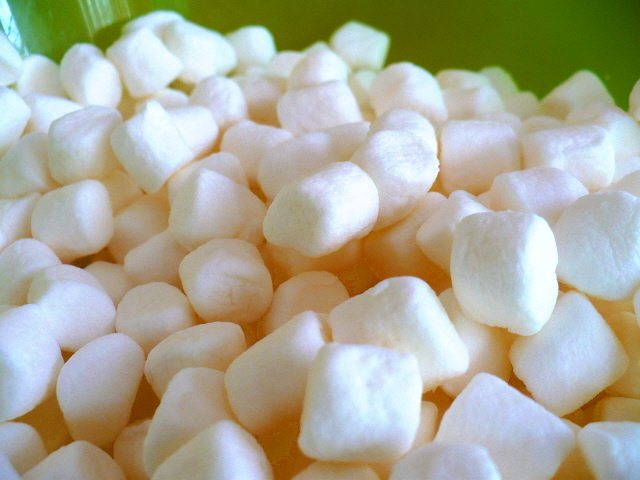 3 navel oranges
3 bananas
1 can pineapple tidbits, drained
½ lb. red seedless grapes
½ bag small marshmallows
½ cup mayonnaise
6 oz. sour cream
½ jar marshmallow cream
Directions:
stir mayonnaise, sour cream and marshmallow cream together and set aside. In a large bowl, cut apples and oranges in small pieces. Slice bananas and cut grapes in half. Add drained pineapple tidbits and small marshmallows. Pour cream mixture over fruit and stir well. Enjoy!!
__________________________________________________________________
Psalm 107:9 For he satisfieth the longing soul, and filleth the hungry soul with goodness.
May's Recipe:  This was a huge hit when served as dessert to a meal!
MILLIONAIRE PIE

Ingredients:

1 can Eagle Brand milk
1/4 c. lemon juice
1 lg. can crushed pineapple, drained
1 c. pecans
8 oz. Cool Whip
2 graham cracker crusts or 2 pre-baked frozen pie crusts

Directions:

Stir milk and lemon juice together with a spoon until thick. Mix with pineapple, pecans and Cool Whip. Pile into the graham cracker crusts or pre-baked frozen pie shells. Chill for 2 hours. This will keep for days.Yield: 2 pies
__________________________________________________________________
Job 5:10 Who giveth rain upon the earth, and sendeth waters upon the fields:
April's Recipe: This makes a good breakfast or anytime sandwich.
Toasted Banana Sandwich
Ingredients:
2 pieces bread
Mayonnaise
Spreadable butter
1 Banana
Directions:
Spread butter on both slices of bread. Put in oven as making toast. Let butter melt, bread will be golden. Take out of oven. Put mayo on each slice of bread (opposite side of butter). Slice banana on to one side with mayo up (may only use half banana). Cover with other piece of bread, mayo down. Eat and enjoy!
__________________________________________________________________
Psalm 104:14 He causeth the grass to grow for the cattle, and herb for the service of man: that he may bring forth food out of the earth.
March's Recipe:  I concocted this dish for my first cooking contest and won third place!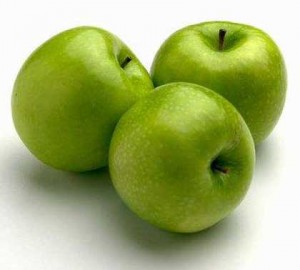 FELICIA'S APPLE CRUMB PIE
Crust
½ cup graham cracker crumbs
½ cup gingersnap cookie crumbs
1 tablespoon sugar
4 tablespoons melted butter
Mix and form in 9 inch pie pan
Filling
3 granny smith apples, peeled and chopped
¼ cup all-purpose flour
1/3 cup sugar
½ cup brown sugar
1 teaspoon lemon juice
1 teaspoon cinnamon
1/8 teaspoon nutmeg
Dash of cloves
1 teaspoon all spice
1/3 cup pecans, chopped
Put apples and 1/3 cup of sugar in pan on stove about 8 minutes. First on high then on medium once simmering.  Then put apple mixture in a bowl.  Add other ingredients.  Stir.  Pour in crust.
Topping
¼ cup oatmeal
¼ cup brown sugar
¼ cup pecans, chopped
3 tablespoons melted butter
Mix all ingredients.  Put all over top of pie.
Bake at 325 degrees for 22 minutes.  Remove from oven and let cool.  Drizzle caramel sauce on top.  Enjoy!
_______________________________________________________________
1 Timothy 6:6-8 But godliness with contentment is great gain. For we brought nothing into this world, and it is certain we can carry nothing out. And having food and raiment let us be therewith content.
February's Recipe:  Here's an appetizer that can also be great taken as a covered dish.
Spinach Artichoke Dip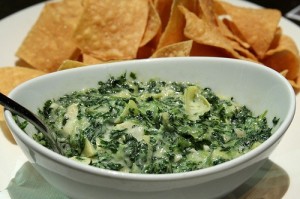 Ingredients:
1 pack frozen, chopped spinach
2 cans quartered, drained, chopped artichoke hearts
¼ cup mayo
4 ounces cream cheese
1 teaspoon garlic powder
1 teaspoon onion powder
salt & pepper to taste
1 pack shredded parmesan cheese
1 pack shredded mozzarella cheese
Directions:
Mix all ingredients together, leaving some of both cheeses for the top. Pour into baking dish. Put remaining cheeses on top. Bake at 350 degrees for 30 minutes. Serve with your choice of tortilla chips.
________________________________________________________________
Matthew 6: 28-31 And why take ye thought for raiment? Consider the lilies of the field, how they grow; they toil not, neither do they spin: And yet I say unto you, That even Solomon in all his glory was not arrayed like one of these. Wherefore, if God so clothe the grass of the field, which to day is, and to morrow is cast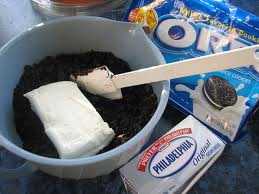 into the oven, shall he not much more clothe you, O ye of little faith? Therefore take no thought, saying, What shall we eat? or, What shall we drink? or, Wherewithal shall we be clothed? (For after all these things do the Gentiles seek:) for your heavenly Father knoweth that ye have need of all these things. But seek ye first the kingdom of God, and his righteousness; and all these things shall be added unto you. Take therefore no thought for the morrow: for the morrow shall take thought for the things of itself. Sufficient unto the day is the evil thereof.
January's Recipe: Here's an easy sweet treat.
Oreo Truffles: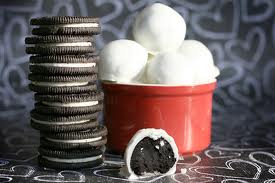 Ingredients
8 oz. cream cheese, softened
1 package Oreos, crushed
1 package white chocolate bars, melted (not chips)
Directions
Thoroughly mix cream cheese and Oreos. Form into balls. Refrigerate. Melt white chocolate in double boiler. Remove from heat. Dip balls into melted chocolate. Serve. Refrigerate leftovers.
_________________________________________________________________
Nehemiah 9:21 Yea, forty years didst thou sustain them in the wilderness, so that they lacked nothing; their clothes waxed not old, and their feet swelled not.
December's Recipe: Here's a good one for holiday meals. I've always enjoyed it.
Sweet Potato Souffle: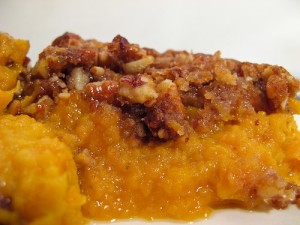 Ingredients:
Souffle-
3 cups mashed sweet potatoes
1 cup sugar
3 eggs
½ cup butter
½ teaspoon salt
1 tablespoon orange extract
Topping-
½ cup butter
1 cup brown sugar
½ cup self rising flour
1 cup chopped pecans
Directions:
Mix soufflé ingredients together and place in a greased (with butter) 2 quart baking dish. Mix topping ingredients together and sprinkle on top of potatoes. Bake for 30 min. at 350 degrees.
__________________________________________________________________
Psalms 136:25 Who giveth food to all flesh: for his mercy endureth for ever.
November's Recipe:  This bread can be baked as a loaf, muffins, or mini-muffins or mini-loaves.  Remember to adjust your bake time accordingly.
Pumpkin Bread
Ingredients:
2 ½ cups pumpkin puree
4 eggs
½ cup vegetable oil
2/3 cup water
3 ½ cups all-purpose flour
3 cups sugar
2 teaspoons baking soda
½ teaspoon salt
½ teaspoon ground cinnamon
¼ teaspoon ground nutmeg
¼ teaspoon ground cloves
Directions:
Preheat oven to 350 degrees. Spray 2 loaf pans (9"x5") with non-stick cooking spray. In a large bowl combine pumpkin, eggs, oil and water. In another large bowl  combine flour, sugar, baking soda, salt, cinnamon, nutmeg and cloves. Gradually add flour mixture to pumpkin mixture until well blended. Pour batter evenly into prepared pans. Bake 45 minutes  or until a wooden toothpick comes out clean when inserted in the middle of the loaf. Cool in pans on wire rack 15 minutes. Turn bread out of pans. Cool completely on wire rack. Optional garnish: sprinkled powder sugar.
_________________________________________________________________
Job 23:12   Neither have I gone back from the commandment of his lips; I have esteemed the words of his mouth more than my necessary food.
October's Recipe:  This is a dish I love. I usually eyeball the stuff; so I'm guessing at ingredient amounts. Feel free to taste and adjust as you see fit.
Potato Salad
Ingredients:
15 red skin potatoes, halved
3 hard boiled eggs
5 green garden onions, chopped
3 celery stalks, chopped
¼ cup mayo
1/3 cup mustard
Salt and pepper to taste
Paprika to garnish
Directions:
Boil potatoes in water until fork tender. Drain. Mash, but okay if a little chunky. Chop the eggs. Add eggs to potatoes along with next five ingredients. Taste and adjust as needed. Sprinkle paprika over top for garnish.
______________________________________________________
Genesis 2:9a And out of the ground made the Lord God to grow every tree that is pleasant to the sight, and good for food…
September's Recipe: I made this during therapy and everyone loved it. It's also found in Felicia's Favorites on page 46.
Key Lime Pie
Crust
½ cup Gingersnap Cookies, crumbled
¾ cup Graham cracker crumbs
2 to 3 tbsp. sugar
1/3 cup Melted butter
Directions
Mix the dry ingredients well in a bowl. Add the butter until all is wet. Press firmly into a 9" pie pan. Bake crust alone in 350 degree oven for 8 minutes. Cool, then refrigerate until ready to fill.
Filling
1 can (14 oz.) sweetened condensed milk
½ cup lime juice
4 egg yolks
Lime zest (approx. 1 to 2 tbsp.)
Directions
Blend all ingredients well, about 1 minute. Pour into prepared crust. Bake at 375 degrees for 14-16 minutes, or until center is set. Cool for 15 minutes on wire rack. Cover and refrigerate at least two hours before serving.
Whipped Cream
1 cup heavy whipping cream
2 to 3 tbsp. powdered sugar
½ teaspoon vanilla extract
Directions
In chilled bowl, mix all ingredients until stiff peaks form. Pipe or spread onto pie. Garnish with lime zest or gingersnap cookie crumbs.
____________________________________
1 Timothy 6:8  And having food and raiment let us be therewith content.
August's Recipe: I chose this recipe as the first one to share because Jake and I ate it together for the first time and we loved to make it at home when we had time.

FJ'S SALAD

Ingredients:
1 bag of mixed greens salad
1-2 Granny Smith apples, sliced thin
½ cup of craisins
½ cup of walnuts
¼ cup or so (eyeball it) goat cheese (we used the tomato/basil flavored kind-
any flavor will do)
Vidalia Onion Vinaigrette
Directions:
Assemble all ingredients together.You can eat as is or add your favorite chicken or
grilled steak to the salad (we enjoyed a juicy steak).